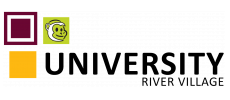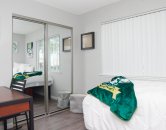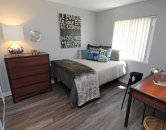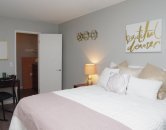 Q:

CAN I CHOOSE MY ROOMMATES?
You can bring roommates with you. However, the Community Management team will fill any vacant bedrooms with new residents who have approved applications and signed the Roommate Code of Conduct.



Q:

WHAT IF I AM UNCOMFORTABLE LIVING WITH MY ROOMMATES?
You can relocate to comparable bedroom in a different unit with 60 days notice and a $250 roommate transfer fee.



Q:

CAN A BEDROOM HAVE MORE THAN ONE OCCUPANT?
No, we have plenty of other units for lovebirds.



Q:

ARE UNITS CO-ED?
No, unless specifically requested.
Q:

HOW DOES LEASING WORK?
Each resident has their own lease and pays their individual rent. All applications are reviewed and approved independently.
Each resident pays a flat utility rate that covers WiFi, internet, cable, trash, sewer, and water. Residents can set up electricity through SMUD and add multiple responsible parties under one account.



Q:

WHAT IF THE UNIT IS ONLY PARTIALLY OCCUPIED?
You are still only responsible for your share of rent and utilities (i.e. If you are the only resident in a 3-bedroom unit, you will still only continue to pay the rent amount and utility amount on your lease).
The living area has a couch and a coffee table. Bedrooms have a bed, mattress, night stand, desk (including chair), and dresser (depending on closet size). The kitchen area has a dining table with four chairs.



Q:

WHAT IS SHARED VS PRIVATE SPACE?
All roommates have their own private bedroom with lock with the option of upgrading to a personal bathroom. The kitchen and living areas are shared.